First Car Nostalgia Part 2
We had a real hoot compiling and interacting with our friends on Twitter with this blog. In fact, the amount of contributions that came in when we asked for first car stories were so overwhelming that we had to split the feature into two!
This week, we are featuring the second lot of first car stories and we have to point out that they are in no particular order! We hope that you find this week's blog as entertaining as last weeks.
First Car Scrapes
It is actually a bit of a shame that we can only feature snippets; if you guys are anything like me I bet your first car had quite a few near misses and was involved in a number of scrapes! I did say last week that I would tell you about my first car and the three "incidents" my little Mini was involved in, so here goes.
The first time, someone went straight into the back of me on a motorway roundabout – I ended up in the middle of the reservation with "I Love Your Smile" playing on the radio. How annoying.
On the way back from getting it fixed (some weeks later), I was then run into by a bus. The driver said he didn't see me as the car was so small. Worryingly, he said this was a major problem for all bus drivers who found this with Minis in general. Nice.
The last time that Winnie had a bump was when I left the handbrake off when I parked her up. While I was in a shop, the car rolled right down the car park of an out-of town shopping centre. Luckily, it went into (surprisingly!) only one car and not a person.
By the time Winnie the Mini came to be sold on, I think it is safe to say that she had seen better days. But she had been loved; the walnut dashboard that went with her was testament enough to that.
1. @CliffCulver had a super-cool first car that was a tad too good compared to the competition – his VW Coupe in blue was a real head-turner
2. Another cool first car came in the form of Samantha Chilcott's Purple 1994 Vauxhall Tigra. @SamRoseChilcott "loved it! [it was] way better than the KAs my friends were driving, and [it] had a bit of power with the 1.6 engine!" One for the girls, I reckon.
3. @AllansPlymouth's first car was an Austin A40, when he was just 15. He spent a year rebuilding this classic car and it was, in fact, what spurned him on to become a mechanic. Fabulous.
4. @TheCarsForum had a groovy 1969 Ford Cortina Mk11 in Gun Metal Grey! We were told that it was a Real Head Turner – I am sure that it did Mike's street cred no end of good!
5. @cars_portsmouth "had a Beetle 1500 E on an E Plate which my brother wrote off trying to clear a wall" – when I queried this, the reply was "Fly! You know like Herbie! Hit a curb cleared a Foot high wall into a garage forecourt!" Enough said!
6.Caroline Shield at @simonshieldcars had a "Daihatsu Charade back in 1987" rather like this: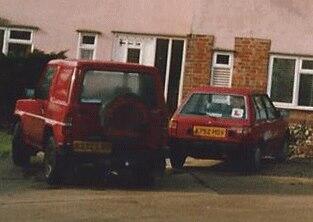 Although Caroline did love it, she confessed to actually wanting a Golf because of this famous ad – yes, branding even worked in the 80s.
Caroline also made us all green with envy when she announced that her hubby, Simon, had a BMW 325 Alpina conversion:
7. @infomotiveUK had everyone's favourite – a Mk2 Escort 1300 2 door, with "bucket seats, wolfrace alloys and very leaky aftermarket sunroof". Like I pointed out, who cares about the sunroof with spec like that! Interestingly, the registration was PAM 441R Although @infomotiveUK doubted that the car was still on the roads, the question was raised as to whether anyone would have kept the plate. Missed a trick there, I reckon.
8. @UsedCarsforSale told us that their first car was a beige Renault 18; this baby was "fully loaded with electric windows and tape player...on a Y plate!" Nice one (show offs!)
9. @Andy4x4Richards had a Mark 1 Ford Escort Estate 1100cc back in 1973 – he pointed out that it was not very sporty but it was "great and as a young teenager great for filling up with mates to go off in an evening". Quite – isn't that what a first car is for?
10. @AutosNorthWest was also in the Metro club – they owned a Rover Metro 1.4 LD in white (ahead of the times there with the colour) – it was their "pride and joy!"
The future of first cars…
First cars aren't what they used to be.
As technology improves every year, the used cars that are available keep on getting better. Also, leasing deals have made new cars more affordable, so it is likely that this generation (and the next) will have better wheels than oldies (like some of us) ever did.
Some wealthy acquaintances of mine told me that when their kids turn 17, they will be buying them a real cool car if they can still afford it. I don't mean a VW Polo, or a nice new Ford Fiesta though - I mean a Land Rover Evoque or whatever is in vogue at the time.
I did say – and I am sure that many of you will agree – that a first car is all about making mistakes. It should not be too powerful and ideally, the safety rating should be no less than 5 NCAP stars. Teenagers can be silly at times and their lack of experience can lead to tragic mistakes. Keeping the kids safe just has to be the main thing for any parent - not keeping up with the Joneses.
And like quite a few of the contributors pointed out during our Twitter topic banter, first cars are all about freedom and "becoming an adult". If things come too easy in life, what is there to work for?
But anyway, back to the fun stuff; we really hope that you enjoyed this Interactive Blog - follow @SimonsCarSpots and @MotorMistress on Twitter and contribute your thoughts for our next one which is due to go out Sunday 2nd February.