Desert Island Cars Part Two
This topic stirred up quite a lot of emotion on Twitter – there were a lot of regular contributors who were – quite literally – left scratching their head when it came to suggesting their desert island car.
A little reminder of the "rules" – quite frankly, there were none. Only to suspend disbelief, fellow contributors were invited to tell us what car they would take to their desert island quite forgetting about fuel and other practicalities (like roads, for example!).
A long series of conversations was sparked off with practical issues and sheer fun being thrown into the mix for discussion; this week we take a look at some of the more lively suggestions as well as some of the more sensible.
Practical Cars
@VantageMotorGrp vouched for the "#Honda #CRV without a doubt! Adventurous and extremely reliable!" There's no denying the famous Honda reliability and after all, that would be quite a boon on a desert island!
Talking about modern cars, @har155 plumped for a "white Sportage…what else!" after reporting a large number of sightings this week to me on the @MotorMistress channel. Our friends at ?@bolton_kia replied that "haha, funnily we'd have to agree with that! or pro_cee'd GT
" (which may not be quite so practical but it would be fun!)
Continuing the 4×4 theme, @AllansPlymouth replied with "On a desert island? Toyota Land Cruiser." This car's one of my favourites, too.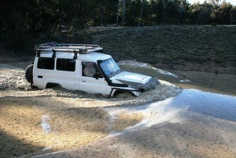 @AutosNorthWest agreed with @AllansPlymouth as far as Toyotas go; he said " The Toyota Hilux!! At least you know it would last…!" In addition, @Lease4wheels agreed; "those Land Cruiser V8 Petrols would be our 2nd choice, we had one in Dubai desert safari"
Weird and Wonderful Cars
Jay at @SwannAutomotive asked the team and came back with a few suggestions that he wasn't too sure about, starting with "a car that floats with an outboard engine could be useful…" but as the conversation went on, he told us that "the ideas I'm being told are turning a bit daft – burger van, ice cream truck. I think the guys have been exposed to too much sun & it's made them go funny-peculiar". I don't think that the team at Swann would last very well on a desert island in that case, do you? It's only March, after all, guys!
This one stole the show for me. @BarrieCrampton told us, "Mine would be an Amphicar on the slim chance that i missed civilisation and wanted to get back". Yes, it's the "car that swims" – check it out at amphicar.com – not actually sure if it would get Barrie all the way back to Britain but there you go – how funny!
Barrie wasn't the only one thinking about amphibious cars – @veedubhev said "How about an aqua car to be able to get home to my Vdubs?" (Heather is a massive VW fan!)
@Joe_Hallenbeck came up with a corker – this would surely do the job on any desert island!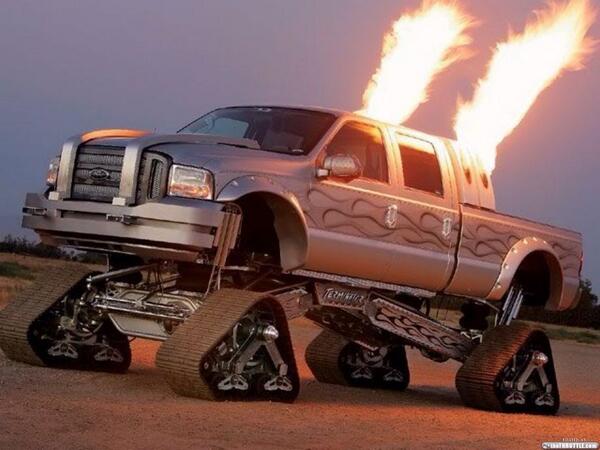 Finally, @LionheartIns sensibly suggested that "for a desert island you could use solar power!"
Fun Cars
If you are stuck on a desert island then you need a bit of fun to take away the monotony of eating coconuts all day and writing SOS in the sand. Here are some of our tweep's fun car suggestions:
@LionheartIns told us that a "Beach buggy would be fun!" and @Imperialcar agreed, tweeting "VW Beach buggy… At least it all be fun =)"
@J8mes_b asked if "bikes [were] allowed? Honda CRF450 if so." Go on, then.
@S_J_Bizzle "[loved] the idea of roughing it in an open-top Jeep Wrangler." These are fantastic fun and a suggestion that I have to agree with.
@CarbaseUK tweeted "Nice topic Debbie! For a desert island it would have to be a convertible…or a Jeep" – good taste and jolly good fun!
All-Time Favourites
@olddiesel just couldn't make up his mind; "Hard to say – I think I'd have something a bit random – something 80s/early 90s… theres Classic Saab 900, Pug 205 diesel, Volvo 240 SALOON, Cavalier SRI 130, or an original model Nissan Primera or Mk 1 Mondeo V6". He finally decided on a "black Cossie Granada 24 valve saloon"
Rally Enthusiast's Choice
This was one that I wasn't really expecting (I don't know why actually as it seems pretty obvious now that a rally car would be perfect over desert island terrain) but after all, this is more Simon's bag than mine.
@infomotiveUK told us;
"I'm hoping 'island' means Corsica and in which case it'll have to be a Subaru Impreza 22B. The 22B is an icon of tarmac rallying! I should also explain that Corsica is a bit like Mecca to tarmac rallying folk
But if a desert island then it'll have to be a Peugeot 405T16. The Peugeot 405T16 is a Paris-Dakar legend, hence my 'desert' island choice.
@Raceandrally suggested the iconic "Ford Escort Mk 2 RS 1800 rally car"
@J8mes_b threw the "Metro 6R4" into the ring – great choices, guys!
Summary
So, that's it, folks – we hope you have enjoyed this blog as much as we have! A massive thanks to all the contributors who make it all possible ?
If you want to know what cars Simon & I would bring to our own desert islands then stay tuned for next week's new "Simon Says" blog where all will be revealed.
In the meantime, have fun and keep on car-spotting – send all your pics to @Simonscarspots as usual and we will see you on the site again very soon soon!